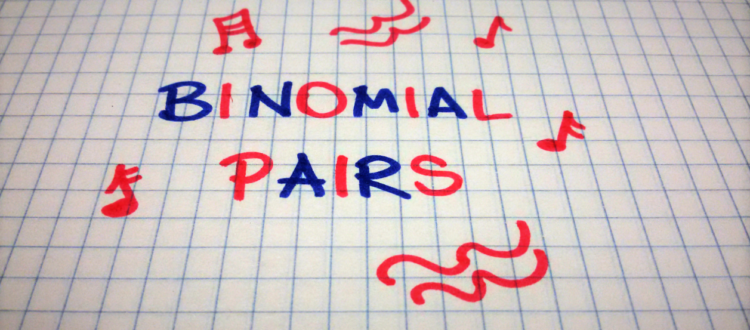 Common binomial pairs in English
Binomial pairs
Le binomial pairs, così frequenti nella lingua inglese, sono espressioni formate da due parole e unite da una congiunzione.
Solitamente, le binomial pairs sono fisse come "more or less" (più o meno), "back and forth" (avanti e indietro) e non possono essere modificate a piacimento, né si può alterare l'ordine dei termini ('less or more' suonerebbe senza senso).
 Le binomial pairs possono essere costituite da due sostantivi, aggettivi o verbi e uniti dalla congiunzione 'AND o 'OR'. Altre binomial pairs sono basate sull'allitterazione, cioè tra due parole che hanno un suono simile come "LIVE AND LEARN". Altre ancora, ma sono eccezioni, sono unite da altre particelle come 'by' e 'to'.
Binomial pairs with 'and' conjunction.
1)Neat and tidy
Meaning: Clean and well organised, in perfect order. Example: Susan's office is always neat and tidy: she pays a special attention to her desk.
2) Far and wide
Meaning: A huge number of places, spread across a large geographical area, often used with "from". Example: Alistair and Jane looked far and wide for the missing dog.
3) Sick and tired
Meaning: Bothered or exhausted  about something/someone.
Example: Ann was sick and tired of her boss, so she decided to quit her job.
4) Safe and Sound
Meaning: Unharmed, 100% healthy
Example: The Japanese boy who got lost in the forest, was finally found safe and sound after three days.
5) Short and sweet
Meaning: When something is done very quickly and comes straight to the point
Example: Ben's speech has been short and sweet: he told exactly what the employees needed to know.
6) Ups and downs
Meaning: The good and bad times
Example: The ups and downs in a relationship are routine, you just have to cope with them.
7) Wait and see
Meaning:To be patient until the outcome of a situation becomes clearer.
Example: We will have to wait and see whether or not these measures prove to be effective in practice.
8) Pros and Cons
Meaning: Advantages and disadvantages of a situation
Example: We need to assess the pros and cons, before signing the contract.
9) Null and void
Meaning: Not valid
Example: When a contract doesn't have a date or isn't signed properly, it is null and void.
10) Wine and Dine
Meaning: To entertain someone with a good meal and good company
Example: Top managers always wine and dine the agency's best clients.
11) Skin and Bone
Meaning:Very thin, with a sick appearance.
Example: When we went to Cuba, we saw a lot of hungry dogs that were nothing but skin and bones.
12) By and large
Meaning: On the whole
Example: We missed the train and had to buy another ticket, but by and large ,the trip to Scotland was unforgettable.
13) Out and About
Meaning: Busy, out of home
Example: I can't sit doing nothing when I'm on holiday. I love to be out and about most of the time.
Binomial pairs with 'OR'
1) Sink or Swim
Meaning: To be in a situation where you can either swim and be successful or sink and fail.
Example: It's a sink or swim situation
2) Sooner or later
Meaning: Something that will happen in the future, even if you are uncertain about the date.
Example: Sooner later I'll sign up to the gym and start working out regularly.
3) Take it or leave it
Meaning: The last offer in a negotiation
Example: I'm not going to pay more than 1000 € for this bike. Take it or leave it!
4) Give or take
Meaning: A little more or less than the amount mentioned
Example:The car cost 5000 £, give or take a few pounds
5) Make or break
(see Sink or Swim)
6) Now or never
Meaning: Something to do in that moment or never again.
Example: Julie was at that stage in the life when she feels that her last chance of marrying has come and that her fate must be decided now or never.
7) All or nothing
( See take it or leave it)
Binomial pairs with Alliteration
1) Part and parcel
Meaning: Something that can't be separated from a specific condition, experience, topic.
Example: Stress and fatigue are part and parcel of working on shifts.
2) Safe and sound
Meaning: In perfect condition, healthy.
Example: Jim had a car-crash yesterday, but he's fortunately safe and sound.
3) Live and learn
Meaning: Learning about life by experiences and unpleasant mistakes.
Example: Live and learn is my motto. You can learn a lot from your mistakes.
4) Live and let live
Meaning: Being tolerant with others
Example: At first, my flatmates used to quarrel a lot, but now they decided to live and let live.
5) Rules and regulations
Meaning: Law, Legislation
Example: In every community rules and regulations are necessary to settle disagreements.
Rhyming binomial pairs
1) Hustle and bustle
Meaning : Confusion, chaos.
Example: I can't stand the hustle and bustle of a big city.
2) Wear and tear
Meaning : The damaging effects of ordinary use in a long period 
Example: When you calculate the value of a used car, you have to consider the wear and tear.
3) Willy-nilly
Meaning : without care
Example: He was driving willy-nilly all over the road and nearly caused an accident.
Se questo articolo ti è piaciuto, lasciaci un commento o condividilo sui social. Grazie!